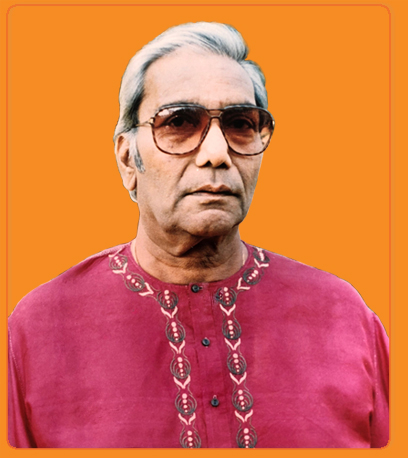 This Festival is dedicated to Late Pandit Brij Bhushan Kabra
The father of Indian Slide Guitar Philanthropist and educationist Sangeet Natak Academy awardee introduced a foreign instrument (Hawaiian Guitar) to the world of Hindustani music as a legit Indian classical instrument 1958. Known as Papa and Bulaji by musicians and acknowledged as one of the world's greatest musicians, Pandit Brijbhushan Kabra rested in peace at Ahmedabad, on 12 April 2018 , at the age of 81.
A Seniya Maehar disciple of Late Swar Samrat Baba Ali Akbar Khan left a legacy with his senior Disciple Pt Debashish Bhattacharya who has created this one and only Slide Guitar Festival in Asia and world called India International Guitar Festival in short IIGF, produced by Bhattacharya's School of Universal Music is dedicated to serve the vision and musical teaching of Pandit Brij Bhushan Kabra forever.
TWO DAYS FESTIVAL HIGHLIGHTS
Homage and respect offerings by Pt. Debashish Bhattacharya on his Late Guru Pt. Brij Bhusan Kabra.
National Guitar Competition & talent hunt.
Workshop on Indian Slide Guitar playing skills, conducted by Pt. Debashish Bhattacharya.
IIGF SLIDE GUITAR SYMPHONY WITH KOLKATA SYMPHONY ORCHESTRA – presented by BSUM, composed by Pt. Debashish Bhattacharya. Directed by Master Suryadipta Bhattacharya.
Launching of new Indian classical Instrument by Pt. Debashish Bhattacharya.
Scholarship, Award and Blessing Ceremony.
Solo Guitar performances by young guitarists and students of Pt. Debashish Bhattacharya.
Indian raga music on Mohan Veena presented by Pt. Satish Khanwalkar and tabla accompaniment by Pt. Parimal Chakraborty.
Guru Bandana - group dance choreographed and directed by Vidushi Jaya Seal.
Final concert by Pt. Debashish Bhattacharya & Vidwan Shashank Subramanyam accompanied by Pt. Anindo Chatterjee & Shree Parupalli Phalgun.
The entire evening will be presented and anchored by Smt. Madhumanti Maitra.
India International Guitar Festival November 2019
Festival Day-1 : November 24 in collaboration with ICCR and KAWAI PIANOS.
Venue : ICCR Rabindra Nath Tagore Center, 9A Ho Chi Minh Sarani, Kolkata.
Festival Day-2 : November 30 in collaboration with KAWAI PIANOS.
Venue : G.D Birla Sabhaghar, 29, Ashutosh Choudhry Avenue, Ballygunge, Kolkata.
Featured Artiste line up:
Pandit Debashish Bhattacharya - (Chaturangui Guitar)
Vidwan Shashank Subramanyam - (Flute)
Pandit Anindo Chatterjee - (Tabla)
Shree Parupalli Phalgun - (Mridangam)
Pandit Satish Khanwalkar - (Mohan Veena)
Pandit Parimal Chakraborty - (Tabla)
Line up of Young Slide Guitarists and Guest Artistes for Vasundhara Mahotsav:

IIGF Symphony:

Performers: Master Suryadipta Bhattacharya, Shree Subhodip Bose, Shree Amitesh Basu, Shree Shyamal Kumar Roy, Shree Naba Kumar Das, Shree Krishnendu Sekhar Dey, Shree Pradeep Kaushikray Buch, Shree Goutam Das, Shree Amitava Saha, Shree Satyajit Maharana, Smt. Pranati Roy, Smt. Lipika Bag, Smt. Papri Kundu, Smt. Sudipta Paul, Smt. Akanksha Kanskar.

Violin: Shree Aprotim Nayak and Shree Sovon Adhikary.

Viola: Shree Bhaskar Halder

Cello: Shree Somnath Makhal

Piano: Shree Pallab Pramanick
Contemporary Popular Songs on Hawaiian Guitar:

Shree Debashish Karmakar, Shree Debjyoti Polley, Shree Pradeep Kaushikray Buch (Baroda), Shree Rajendra Chaturvedi (Delhi).
Indian Classical Music on Chaturangui Guitar:

Shree Amitesh Basu, Shree Goutam Das and Shree Supriyo Mukherjee.

Tabla: Shree Sudhir Gharai, Shree Debjit Patitundi and Shree Subhadra Kalyan Rana.

Keyboard: Shree Subrata Pramanik.
India International Guitar Festival November 2019 - Register Now
Contact us: (+91) 98300 41411, (+91) 93308 65131 or (+91) 98309 73333 | Email: info.iigf@gmail.com
****Program subject to change
Hello!
Greetings from IIGF.
We are going to present the fifth edition of India International Guitar Festival: Vasundhara Mahotsav - a classical and contemporary music Hawaiian Guitar and other slide guitar carnival with guitar-stalwarts young masters and talents from across the country on two winter days: 24 and 30 November 2019. In between the time frame of 11am to 9pm on 24 Nov and 5pm to 9pm on 30th Nov the festival will bring the Indian guitar enthusiasts & music lovers together under the spell of some of the most blessed performing guitarists coming from various schools of classical guitars in India & the world. Efforts are made to bring along with large number of art inclined Kolkatans, musicians and music lovers a lot more than what First Festival delivered to their acclaim.
The festival will present young talents of slide guitar under the kind mentorship of Guitar Guru Three times Grammy Nominee Pt. Debashish Bhattacharya. stage performance will engage them in diverse interactive and knowledge sharing programmes. Providing scholarship, cash, awards, stage, guitars and musical accessories to the deserving musicians in need of support is also included in the Mahotsav.
Your association and collaboration as a sponsor, member and participant, those what we are sincerely looking forward to make this event a grand success.
Thanking you
Tripti Bhattacharya, Convenor
Contact (+91) 98309 73333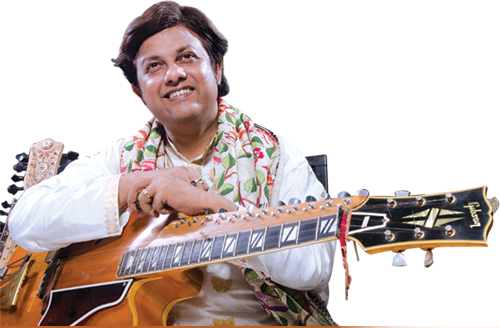 A Grammy nominee and two World Music Awardee from Kolkata The Guitar God Debashish Bhattacharya, born in1963, is among the leading performing purveyors of Indian classical music, especially in the field of classical Guitar. Acknowledged as the pioneer of unique Kolkata Gharana in Indian Classical guitar he mastered disparate Indian classical instrumental styles as well as vocal music under his parents and some eminent music teachers in his formative years. Asof the last millennium he inclined to slide guitar and became a disciple of Brij Bhushan Kabra, the father of Indian classical guitar and Pt. Ajoy Chakrabarty. Later he has been accepted by the great Ustad Ali Akbar Khan, the sarod legend for enriching his command of ragas.
Today Pt. Bhattacharya is widely acclaimed for his unique signature style. With a rare poise and talent he has been reinterpreting Indian Ragas, on Chaturangui, Gandharvi and Anandi - three specially created Indian Slide Guitars.Over the last few years he has been featured in billboard top 10, Song Line Magazine top 10, Central Asia and Asia Pacific world music top 10, Amazon top 100 albums and in National Geographic. He is also in the world's who's who list of artistes in 2012. Among the laurels conferred to him are Songlines Music Award in 2016, Sangeet Ratna Award in 2011, BBC Planet Award in 2007, Asiatic Society Gold Medal in 2005 and President of India Award in 1984. He also won the prestigious Grammy Nomination in 2009.
Pt. Bhattacharya has been ceaselessly promoting Indian Classical music through Slide guitar since past thirty years by propagating the nuanced art of Indian Classical music among the slide guitarist in India and abroad. Vasundhara Mahotsav, and India International Guitar Festival is the festival has been conceived by him as a confluence of evocative music of \Indian Ragas and Western Classical, Jazz, Blues, Rock and more – brought alive by guitar maestros from the world over. It is a platform for Indian global music. It's a platform for young budding talents young maestros to create and collaborate.
IIGF: A GREAT EVENT WITH A BIG DIFFERENCE
Slide guitar owing its origin to Hawaiian Guitar has evolved as an instrument of Indian Classical music during last 85 years. Legend late Guru Pandit Brij Bhushan Kabra of Jodhpur and even before Pandit Nalin Majumdar of Allahabad are among the pioneers of Indian Slide Guitar. Presently Pandit Debashish Bhattacharya is carrying the torch and furthering this evolution that has added a indelible impetus to Indian Classical music with a soaring popularity graph. Simultaneously it is equally adored to strum contemporary music. Today thousands of musicians, both famous and budding talents in India and on the foreign shores, are engaged in Indian classical and other genres of music on slide guitar.
India International Guitar Festival like previous edition will showcase some extraordinary performers from this growing pool of talents who have been expanding the horizons of music on guitar. This year more highlights are given to Pandit Debashish Bhattacharya's world famous dynamic teaching workshops, master classes concerts of budding talents and young talents dedicated to the teaching of his Guru Late Pandit Brij Bhushan Kabra and post concert media meets among others.
Mass Media, particularly electronic, digital and print are also being convincingly persuaded to play their part for giving the Festival both pre and post concert coverage in best possible ways. This festival, for its inherent magnificence, has already kindled interest among the guitar enthusiasts and music aficionados in the country and abroad. To simply put, Vasundhara Mahotsav enshrines a musical esprit de corps to unite the world through Guitar.
- Debashish Bhattacharya.